Should you hire a local mover?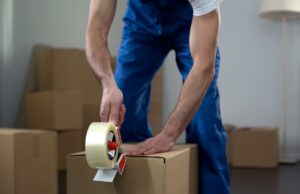 Should you hire a local mover?  And what do movers really do for you?
This second one seems to be a self evident question… after all.. their name more or less explains their job, right? And if you have asked this question, it is likely that you are trying to decide if hiring a moving company really makes sense. It's not difficult to pack everything into boxes and load them onto a truck. You may even be considering doing it all yourself.
Halls Local Movers wants you to know that there's a lot more involved in moving than you may think, and it all starts before any box is packed or the first roll of tape is unwrapped. If you decide to do it yourself, you may find that there are hidden fees. Professional movers go through at least 10 steps to successfully complete a move.
1. Taking Inventory
When you ask "What does a mover do?" the first thing you might think is that they will come to your home and load everything in their truck. A professional mover will first go over the items with the homeowner.
Everyone is different in terms of what they want to move. They might only move your furniture, but you may prefer that they do the packing. You might request a full-service move, where all the moving and packing is done for you.
Whatever the case, your movers will have a system in place to keep track of everything they are responsible for moving.
Halls Local Movers provides detailed, itemized inventory lists that include the item's type, number, and condition. To prevent any discrepancies, homeowners can request to approve the list. It can be stressful to move. Take the time to list each item so you are more organized.
2. Packing
It's more than just moving your belongings to a new place. You can also hire full-service movers to pack your belongings.
Moving is one of most stressful tasks. It can be difficult to pack everything, label the boxes and then move those boxes again. As an added service, full-service movers may be able to add this service to your contract.
You can relax if you choose to have professional movers pack your move. Movers and packers will carefully wrap and secure your valuables in boxes and label them before moving those boxes to your new home
If you are thinking about putting your items in storage, we have a post called How to Pack Your Items For Storage. Get the most from your storage unit!
3. Protecting your belongings
Moving companies are a common concern. You may be worried about your valuable items being damaged.
Even if you don't hire them to pack your furniture, a professional moving company will take the extra time to protect it. Protective measures such as carpet protectors, padding and moving blankets can help to avoid damage during a move. Professional movers are trained to protect your home and minimize the chance of it being damaged or lost.
Many people can relate to a disturbing horror story about friends who climbed a ladder and flipped a couch onto a floor. They also crashed through windows or turned off a light. It doesn't have the to be your story.
4. The Vehicle Inspection
A crew member will inspect the truck at the start of the moving day to ensure it is in top shape and can withstand the load. It's not worth going out with a truck that isn't ready to go.
We are committed to keeping your belongings safe. The truck is responsible for much of the safety and efficiency of your move. These trucks are driven every day by professional movers, who know what to look out for.
5. Loading
Movers will move your belongings onto the truck after they have protected them. Anyone who has ever tried to move their own stuff knows this is a difficult step. The platform on a rented truck could be up to four feet above the ground. While some advertise a lower platform with ramps, there are still dangerous hooks and clamps that must be adjusted.
Should you hire a local mover, they can load awkwardly shaped furniture, fragile items, and heavy boxes to ensure everything arrives in perfect condition at your new residence. Movers are skilled at optimizing space and efficiency when moving a load. This means that boxes are placed so that they don't fall, and your precious glass coffee table is protected during transit.
If you leave your belongings to people without the right training and knowledge, they could be damaged, cracked, or smashed upon arrival. You could even be injured.
6. Securing your Belongings
Movers will tie down heavy items in the truck if necessary to prevent them from shifting during transit. This can help avoid damage. Method is key to having full-service movers working for you.
Special moving mats, straps and clamps will be used by the movers to secure your items in the truck. These are things that you won't find in your garage. Although you may be able rent equipment from your local truck shop, that does not mean you are able to use it correctly.
Most likely, you used the tried-and-true method of stuffing as much stuff as possible in the back of your truck in the hope that the density of the items would hold them in place. You are wrong. It is not enough. Moving companies are better at protecting your belongings than you.
7. Driving
It is different to drive a moving truck than a sedan. You must pay attention to traffic and turns when driving a large truck loaded with furniture and boxes. You won't be familiar with the dimensions of the truck, so you might damage signs, gates and trees that you don't normally have to concern about.
Although the truck rental store may allow you to drive their trucks, it doesn't guarantee that it will be easy. Consider the stress and time you'll save by having someone else drive your truck on moving day.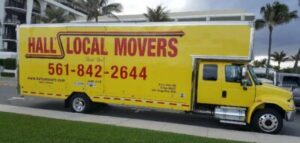 For safety and security, professional movers must be registered and certified by national organizations. For example, the FMCSA is a good place to start. Halls Local Movers is registered to protect your belongings across the country.
8. Unloading
After all residents and trucks have arrived at the new apartment or home, the movers will unload all furniture and boxes. How many people will it take to move if you're doing the move by yourself? Heavy loads can be moved with ease by professional movers.
They are able to tell you where everything is, how to get it from the truck to your house, and how to reduce the time that the truck takes to load.  Moving companies will also take precautions to protect flooring, walls and belongings from drops, scrapes and bangs. Should you hire a local mover, they going to wrap your furniture correctly, place it where you want it, and even put it where it will live in your home? All of this and more is possible with full-service movers.
9. Organizing
Many homeowners have an idea of the place where furniture should be placed. If not on paper, they probably have it in their heads.
The moving crew coordinates the boxes and pieces in each room and asks the customer how they want the furniture to be placed. Professional movers don't just move everything into the living room and hope it works out.
You can choose a full-service move and they will even unpack and put your furniture back together so that you can go out for a movie or just relax in your new area.
10. Clean as a Whistle
The customer will sign off the final time the truck has been empty and everything has been put in its proper place. The movers will then unpack any boxes that you haven't yet packed and gather all blankets, paddings, dollies, carpet protectors, or other items. This is one less thing for your. After a long and exhausting move, it's time to relax in your new home. Professional movers will give you the energy to move on to the next chapter in your life.
Should you hire a local mover?
Moving companies take a lot of the work off your shoulders when you move. You can hire them to pack your stuff, but there are many things that must be done on moving day.
We hope that next time you ask someone "What do movers do?" they will have a better answer to their question than just moving boxes from one place to the other (and why it is important to not pick the cheapest). Professional movers provide a level service that you won't find when you try to do it yourself. It can be stressful to move, not only because you are no longer in your home but also because you don't have easy access to your belongings.
A team of movers will save you time and provide peace of mind during the transition you and your family are experiencing.
Should you hire a local mover?  We think so. Halls Movers are the South Florida movers that you can trust with your treasured belongings.
Movers in Palm Beach